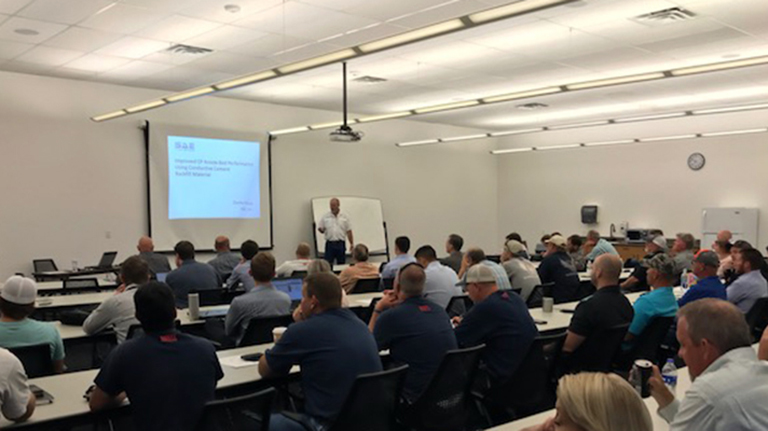 14 Sep

NACE Certified!

In today's market, staying on top of new government regulations, best practice procedures and the latest techniques for controlling corrosion is crucial to getting the job down right. On July 7th, 2018, Charlie Poore received his NACE Senior Corrosion Technologist #53904 designation ̶ the cumulation of many NACE classes and years of experience. The Senior Corrosion Technologist Certification is geared towards experienced personnel possessing practical knowledge over multiple areas of corrosion and mitigation and requires a variety of NACE classes including coatings, both external and internal corrosion and design.

Charlie Poore is the Vice President of US Sales at SAE Inc., located in Los Lunas, New Mexico. He has 30+ years of experience in corrosion control within the energy, oil and gas sectors. Charlie as a certified NACE Senior Corrosion Technologist and in his years in the energy business has been able to share his expertise to a variety of clients including Northwest Energy, Southwest Gas, Williams pipeline, ONEOK and many more.

Charlie has been a serious advocate of corrosion science through education in NACE and as a member of the AGA Corrosion Control committee ̶ having delivered numerous technical Cathodic Protection and AC Mitigation presentations at local NACE sections, NACE Regional and AGA conferences. In giving back to the industry, Charlie currently serves as the Trustee for the Sandia Mountain NACE Section, is on the Board of Trustees for the NACE Central Region and proctors students taking NACE exams. A New Mexico native, Charlie attended from The University of New Mexico majoring in Geology.

For engineering support and custom product development contact Charlie Poore at cpoore@saeinc.com.